Nemelphia


Basics
Name
Nemelphia
Nickname(s)
Neme
Gender
Female
Age
27
Birthday
Feb 13
Species
Werecat
Status
Alive
Family
Sibling(s)
none
Partner
none
Children
none
Professional life
Position
Medical Trainee
Rank
B
OOC information
Creator
CherryAequitas
Status
Inactive

Nemelphia had heard stories about the ship since she was young.  So not wanting to go through with her arrange marrage to a neighboring tribe or becoming her tribes high priestess, she ran away to find the ship . Once finding it she was recruited and now is a medical trainee.
Talents and Skills
Edit
Were-cat - She is abel to transform into a Leopard.
Medical - She is skilled in basic medical tactics. She use her healing powers on people for major injuries even though she won't be able to heal it all the way
She is skilled in archery and other long distance weaponry
A skilled dancer in her tribes ritual dancing
Sewing
Chimera - This bow that she has is carved out of the bones of her dead mother. She only carved it fifth-teen years after her mother death because her tribe were a against her carving her bow at the age of seven due to the fact that her mother died giving birth to her. she took two ribs and a the left radius and shaved them down to fit like puzzle pieces. After carving and wrapping a tight cloth around the bone to keep them together, she then dipped it in silver, giving a thin coating. She keeps it under her pillow when she sleeps and under the desk in the infirmary while working.
Combat Skills and Abilities
Edit
Can shift into a cat like form to help herself see better while she helping people but can't stay in that form for long.
Able to heal people some what but it drains her greatly.
Education and Intelligence Background
Edit
She was born as the daughter of the High priestess of the tribe. After the death of her mother the tribe had her learn everything there was need to know about the priestess and healing the people.
Personality

Edit
She see herself as a strong independant woman that has been though many hardships in her life. She often is seen as being uncaring and intellegent being. Overall is seen as a distance yet cocky cunt who needs to learn her place.
Weaknesses
Edit
Her losing eye sight
She will never harm a friend unless they harm another friend.
Once of monthe she goes into a heat cycle
The GiSi
Appearance
Edit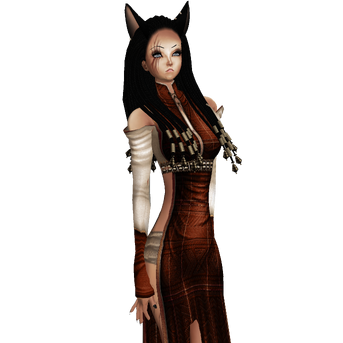 Nemelphia stands at five feet six inches. She has tar black hair the is always in thin dreads. Tan skin with scars everywhere from being attack by "Wilds" in the jungles. Her eyes are that of a grey with a tint of baby blue. Her clothing sticks mostly to red, gold and white.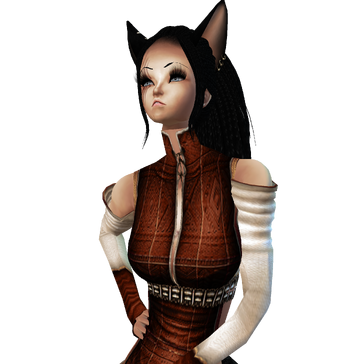 Ad blocker interference detected!
Wikia is a free-to-use site that makes money from advertising. We have a modified experience for viewers using ad blockers

Wikia is not accessible if you've made further modifications. Remove the custom ad blocker rule(s) and the page will load as expected.