Lotus had been simply flying around the Septimo, and exploring her surroundings in a raven form. She had then caught the scent of other godlings nearby and decided to board the Septimo. There she found Lynk and Kyler, soon finding her home there and becoming a look out for the ship. She is a bubbly, curious, hungry, and childish character. And is absolutely obsessed with the colour green.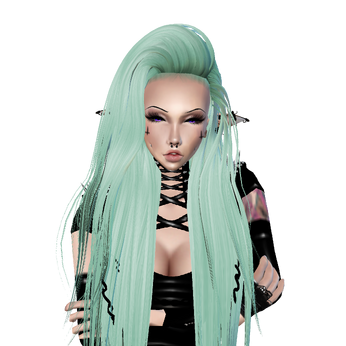 | | |
| --- | --- |
| Position: | Ship Look-out. |
| Rank: | (Leave for Admin) |
| Full Name: | Libitina Lotus Morrigan |
| Nicknames: | Lotus, Minty, Bird-Brain, Mint, Libbi, Death. |
| Race: | Godling, Daughter of Morrigan. |
| Age: | WHO KNOWS. |
| Birthday: | WHO KNOWS. |
| Nationality: | Irish |
| Hometown: | WHO KNOWS |
| Parents: | Morrigan (alive) |
| Siblings: | None |
| Children: | None |
Talents and Skills
Edit
Keep this one bulletpointed. This is in general talents and skills, Cooking/Fighting/Drawing/Instroments ect can be seen under this.
Bullet point this one also. What weopons does she have, if none, delete this section.
Combat Skills and Abilities
Edit
Bullet point this one also. This is skills and abilities in combat, including magical abilities. Autohealing/mindcontrol/mindreading is not encouraged and may be voided if used in roleplay. if none, Delete this section
Education and Intellegence Background
Edit
Short and long term life goals
Personality
Edit
Who they were like and what they are like now.
Weakesses
Edit
every character needs these. Try to list atleast 3
Gods <--- Doesn't have to follow these, Chritianity, buddists ectect all still apply.
Appearance
Edit
Small para about what they look like, where there accessories came from ect ect.
Relationships
Edit
If none known, delete
Grand ParentsEdit
FriendshipsEdit
Background
Edit
Background of your character, go into as much detail as you desire.